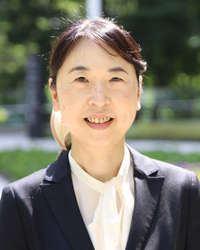 My name is Oyama, and I was appointed as Saeki's successor in April.
National Institute of Science and Technology Policy (NISTEP) was established in 1988 to conduct the surveys and other research that underpin government policymaking for science and technology (S&T).
Science, technology, and innovation (STI) is increasingly emphasized as an important means of ensuring Japan's sustainable growth and development. While considering the rapid and major changes in the times and society, NISTEP has been engaged in studies and research that is directly related to the planning and promotion of science, technology and innovation policies.
For example, we conduct studies and research on trends in research areas that are attracting attention both domestically and internationally, using multiple approaches: creating Science Map that visualizes the research areas based on the analysis of research papers; analyzing by extracting keywords from the information on adopted competitive research grant projects; and identifying promising science and technology based on the analysis of questionnaire to experts. The NISTEP's research outcomes are used as the basis for policy making.
NISTEP is also engaged in research and the development of data analysis methods in response to the trends of open science discussed at the G7 Science and Technology Ministers' Meeting in Sendai, Japan. Furthermore, NISTEP accumulates and provides data and research findings from a variety of perspectives, including the career and employment status of young researchers and Ph.D. holders, practical challenges in university research system, and surveys on innovation and research activities in the private sector.
Taking advantage of its status as a national research institute under the direct jurisdiction of the Ministry of Education, Culture, Sports, Science and Technology (MEXT), NISTEP has an active focus on activities of direct relevance to policy planning, policymaking and policy implementation for STI policy in Japan. Promoting such research activities with relevant institutes, we contribute to the evidence-based policymaking (EBPM) initiative being pursued by the government as a whole.
As a core institution in STI policy research, NISTEP will continue to work in partnership with government entities, universities and other research institutions, domestic and international. In addition to accurately identifying needs for research activities, it plans to strengthen its communication capabilities as it conducts and extends its research activities.
We appreciate the support and cooperation that we receive.
OYAMA Mami
Director General
National Institute of Science and Technology Policy
(Ministry of Education, Culture, Sports, Science and Technology)
May 2023